Afternoon Tea Week is just around the corner. This year it is taking place from August 7th to 13th, so it's time to indulge in all
things sweet and savoury. London is home to a variety of afternoon teas, whether you're looking for
something classic, unique, interactive, or even if you want to witness some of the best views in
London.
Tea on the River, The Afternoon Tea Cruise
The London Afternoon Tea Cruise offers a truly unique style of dining, taking you on a journey down
London's River Thames. This experience provides you with an informative tour with some of the
most spectacular views of the city by day. This afternoon tea invites you to a traditional platter of
delights including classic British sandwiches, scones and a selection of herbal and fruit teas. The boat
has its own fully licensed bar onboard and 360 degree views of London's riverside landmarks.
Credits: thamesdinnercruise.co.uk
The Mystery Tea, Holmes Hotel London
Ready to get your detective cap on? Holmes Hotel's afternoon tea will take you on a journey where a
mini mystery is in need of solving. Refresh yourself with an assortment of expertly brewed teas,
while nibbling on carefully curated sandwiches and delightful sweet treats – not forgetting the
scones too! Choose from the comfort of their cosy lounge, pastel pink drawing room, or a bit of al
fresco dining on the Secret Roof Terrace or Kitchen at Holmes Terrace.
Classic Afternoon Tea Bus, Brigit's Bakery
Another way to fit in some sightseeing with your afternoon tea is with Brigit's Bakery Afternoon Tea
Bus Tour. The vintage London double-decker bus will take you on a drive round Central London,
taking in some of the City's best sights, all while you indulge in the delights of afternoon tea,
including tasty sandwiches, cakes and pastries.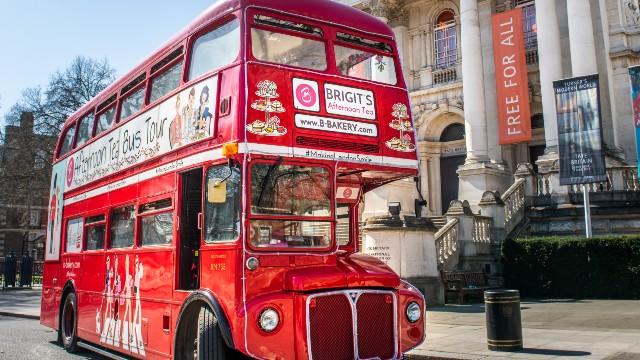 Credits: : londonandpartners.com